My first sailboat was the Victoria 18 which I purchased on a whim during a particularly boring day. I didn't even know how to sail, but figured it would not hurt to learn. Four months later I upgraded to a 1997 MacGregor 26X named "Doris Decker," my grandmother's maiden name.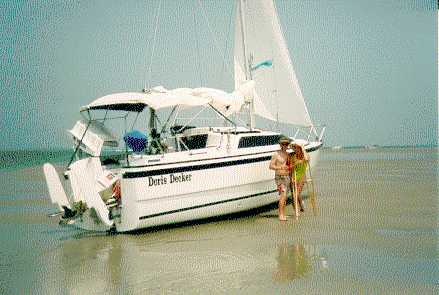 Although this boat needs only 8" of water to float, here we have substantially less. This photo was taken on July 4th weekend 1997 near (on?) Shackleford Banks, NC. The 26X is a great boat and it does everything that it is marketed as doing. The company advertises it for a very low price, but in actuality figure on spending about $20-25k to outfit one, unless you have your own engine already (which I did). I was quite happy with this boat, and I sold it because I decided I wanted to build my own boat - that is what started the Martha Jane project. At one time there were as many as five MacGregor 26X's in our sailing club, the Triangle Sailing Association. The only thing that I do not like about the MacGregor is that the trailer can't take the weight of the boat when fully loaded. I found that I needed to keep all my camping gear, food, water, etc. in my towing vehicle when trailering. A double-axle trailer would be much better.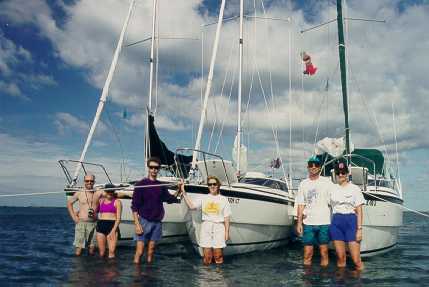 Three MacGregor 26X's and their proud owners. Left to right: Stockstill '97 model, Lewandowski '98 model, Wickle '96 model. We are anchored in the bight near Cape Lookout, NC. Shallow draft boats are great. Simon used his mast crutch, jammed into the mud in the water, for a camera stand to facilitate our self portrait.
Us from the back side. We had a blast with these boats.
Back to Boats.
Back to Home.