Boats boats boats

Check out my YouTube videos at http://www.YouTube.com/mike27608.

I am fascinated with boating - sailing, motoring, design, construction, and all things related. The hailing name (VHF) of the boat is in "quotes," while the manufacturer or design name is in Italics. Select the link for a larger photo.

Boats I have built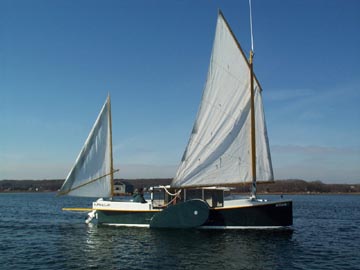 "Rambunctious", a Bolger

Martha Jane. (Phil Bolger is steering in the photo.)

"Easter" a Bolger
Nymph
A Bolger

Brick, which I then sawed up to make "Tootlebug" a Bolger Elegant Punt.

"YOUR AD HERE," a Bolger
Skimmer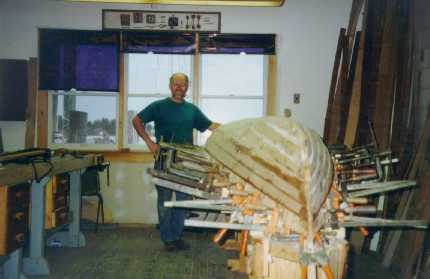 "CB" an Oughtred designed

MacGregor Canoe

My Former Boats (I did not build these.)

"Blue" a Victoria 18

"Doris Decker" a

MacGregor 26X.

"Orpheo," a Bolger designed

AS-19 of the Advanced Sharpie series.

"Ichthus", a Morgan 413 Out Island Ketch

1957 Richline motor boat

How to find out more about Bolger boats

For Bolger boats, FIRST try H.H "Dynamite" Payson's web site.

http://www.instantboats.com/

If you are just getting started, I recommend you buy two of his books: Instant Boats and Build the New Instant Boats. Mr. Payson wrote both - they tell you just about everything that you need to know, and are quite entertaining as well. Buy his catalog too - it is only a few bucks. There are comments on many designs, and it is a great way to get your feet wet (keep them dry?).

Subscribe to Messing About in Boats

http://www.mims.com/maib/ for comments by PB&F designers Phil Bolger & Susanne Altenburger regarding their work. This magazine comes out twice per month and is an approachable way to get to know the boat building community.

Read Boats with an Open Mind and 103 Small Boat Rigs. You may obtain these from PB&F directly or via most of the bookstores.
Phil Bolger & Friends

66 Atlantic Street

PO Box 1209

Gloucester, MA 01930-1627

Fax (978) 282-1349
Subscribe to this Internet chat room:

http://www.egroups.com/group/bolger/ for ongoing discussions of the designs, different home building projects, and sometimes postings from PB&F.

Here is one of the most complete resources I have seen online:

http://www.ace.net.au/schooner/sites2.htm#start

How to find out more about pre-plywood boat building techniques

The North Carolina Maritime Museum in Beaufort (BOW-fort), NC has a reputable boat building program. I head down for classes whenever I can. Here is the web site: http://www.ah.dcr.state.nc.us/sections/maritime/default.htm

Finding Supplies

Thus far I have used System Three Epoxy: http://www.systemthree.com/

Spruce Head Marine 207-594-7545 is a source for nails, etc, and they are familiar with the Bolger designs from Dynamite Payson's books.

Back to Home.