AS-19

This is "Orfeo", formerly my Bolger AS-19. The picture was taken on Jordan Lake, NC in the spring of 1999. My friend

Patrick is on the main sheet.
The boat was built by

Edgar Williams, a musician and he named it. Incidentally, "Orpheo" was the greatest mortal musician in Greek mythology.
Straight on the bow. To support the boat on the trailer, I just have a 4x6 piece of treated lumber lying across the trailer and tacked down. This trailer is overkill for this small boat.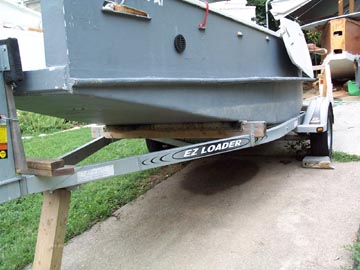 Another shot off the cross member. The scum line is the water line, left over from a 2-week camping trip in Beaufort, NC. On the leeboard support rail, some of the fiberglass is peeling. Edgar (the builder) told me that he did not put cloth on the horizontal supports - and the fiberglass is peeling where he did not use cloth. He did add cloth everywhere else on the boat, hence there is no peeling anywhere else.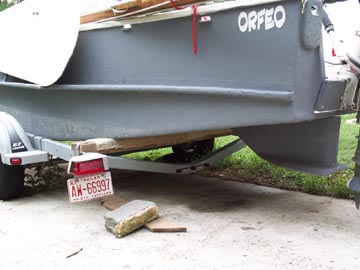 The port quarter - the second trailer brace is back here. Shallow rudder is great.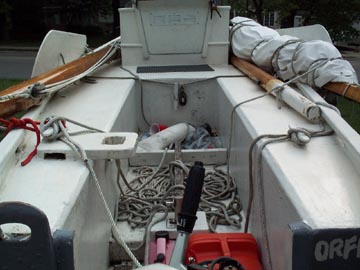 A very roomy cockpit for such a small boat.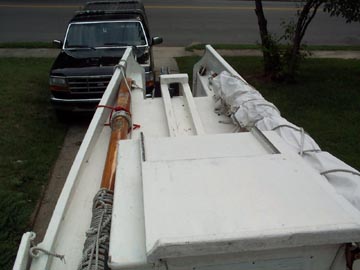 Standing in the cockpit looking forward. The open bow is great for climbing in and out. The flat deck is great for walking around or stretching out while under way.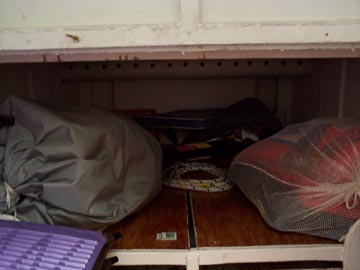 Looking into the nose area - lots of space for sail bag, life jackets, junk, etc, etc.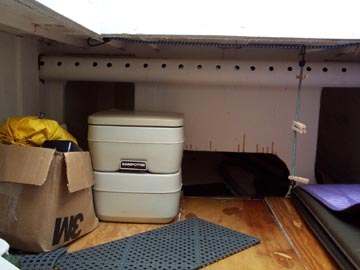 Aft end of the sitting area. Room for a porta pottie - I slide it forward to do my business, bungie it back while under way. The inside does not photograph well, as I cannot get back far enough to get a good shot. When I camp, I put my sleeping bag and air mattress on the port side, supplies in the forward cabin and on the starboard side. Portable plastic drawers work great. This area has sitting headroom, but you can't tell it from the photographs. The floor panels lift to give access to the bilge which remains pretty dry. The ballast is bolted to the frames in the bilge.

See

Tim Fatchen's site for more info on this boat. Back to Boats. Home.